ALSTON CURVE
Funded by Alston Hall, the Alston Curve is set in Higham's grounds looking out onto Skiddaw and can be enjoyed by all our students to watch the world (or sheep) go by.
ALSTON CURVE | Welcome
24.3.2017
Alston Hall was, until the beginning of last year, a sister college to Higham based in the Ribble Valley in Lancashire. We shared many tutors and, indeed, students, and strived to be true to the same aims of lifelong learning, at one time both being part of the, now defunct, Adult Residential College's Association (ARCA).
With the closure by Lancashire County Council of Alston Hall early last year, and the subsequent sale of the prestigious building, adult residential courses sadly ceased for them and their many students and tutors.
The Friends of Alston Hall approached Higham with the offer of a little funding to provide something special and, of course, we jumped at the chance. We suggested a project that had been on our minds for a while – to build a shelter in the gardens for students to gain the best view of the mountain Skiddaw, which dominates this area. They kindly agreed, and, with the consent of our own Friends of Higham and the Trustees, we commissioned the construction of "The Alston Curve" in our grounds, just to the left of the main front lawn.
We express our gratitude to the Friends of Alston Hall for thinking about us, and for their generosity in providing something that will be of practical use for many years to come, and we hope that the 'curve' is a fitting tribute to the positive effect on lives that Alston Hall once provided. It is an honour to have been considered worthy of hosting this remembrance of Alston, as the commemorative plaque, will say:
The Alston Curve
Donated by the Friends of Alston Hall 2017
Continuing the spirit of true Lifelong Learning
The Friends of Alston Hall are coming up in a coach and attending an Opening Ceremony with ribbon cutting & photos which shall start with a cuppa at 2pm on Tuesday 2nd May here at Higham. Friends of Higham and Members of the Higham community will be most welcome to join us for this event.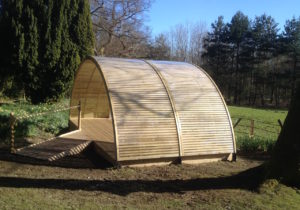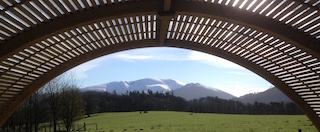 ALSTON CURVE | Plaque and Monty
5.9.2017
Just about got Monty to sit long enough in the new Curve to capture a shot of him with the new plaque, cunningly installed on a tree trunk by Neil the gardener.