BRIEF HISTORY OF HIGHAM
Higham Hall was originally built in 1828 by railway pioneer Thomas Hoskins, so he could have sight of the railway which used to run along the route now followed by the A66. It saw service as a Youth Hostel and a Girl's Boarding School, before becoming an Education Centre in 1975 for Cumbria. In 2007 Higham Hall was sold to the newly established Trust to be run independently as a centre of learning for adults of all ages. Higham is now an independent Educational Trust attracting around 3,000 adults each year on over 250 courses of lengths from half a day to up to a week. Being residential, people come from all over the country.
COURSE FEES:
Included in course fees for 1 person are, where appropriate:
Expert Tuition and, if applicable, Field Trips
Refreshments (tea/coffee and a nibble!)
Lunch (2 courses: main with salad selection, dessert & tea/coffee)
Dinner (4 courses: starter, main, dessert, cheese & tea/coffee)
Residential fees also include:
Standard room accommodation (en-suite is £10pn extra)
Breakfast (juice, cereal, hot selection, toast, tea/coffee)
Materials vary with each course, and often depend upon what individual students wish to use. Students are responsible for their own materials.
Where applicable, materials will be supplied at cost by the Tutor.
Each Course Programme contains details of what to bring.
Courses and Events are open to all levels unless otherwise stated.
---
PAYMENT:
Full fees for Days and Events are payable on booking.
Longer courses reserved by £50 deposit (£25 of which is non-transferable) with balance due 4 weeks before course.
The safest way to pay is over the phone with your Credit or Debit card.
If you ring and there is no answer, it is usually because we are dealing with another customer. There is usually someone in the office 7 days a week from 9 to 5.
Please make cheques for courses payable to
'Higham Hall College Limited'.
Course Programmes are generally sent along with your Booking Confirmation (either by post or email) when you have booked and paid your deposit (if applicable), and will contain information on the course content and any equipment required.
If you do not receive this information, please let us know and we will resend it.
Unavoidable changes may sometimes be necessary. We will always strive to deliver a top-notch course based on the skills and knowledge advertised. We do recognise, however, that some courses are unique to individual Tutors, so could not be delivered by anyone else.
---
CANCELLATION:
It is advisable to take out your own Travel Insurance.
We do offer optional Cancellation Protection: £5 per night when paying balance. Covers refund of 80% of fee (less deposit) if cancelled through illness or injury of self, partner or close relative (doctor's certificate required).
Remember your deposit secures your place on a course, and, once booked, can preclude others from booking that place, or having a certain type of bedroom. In rare cases, withdrawal of a place on a course might put the viability of an entire course in jeopardy. Therefore deposits are not returnable. However, we may consider transferring half of a deposit to a future booking if you ask nicely! 
---
DISABLED GUESTS:
Features to make life easier for those who need them
Stair lift on main stairs up to Hall Bedrooms
Platform lift on stairs to the Bar, Cedar Room, Harness Room and Courtyard Studio
All the ground floor and gardens are generally accessible to wheelchair users.
Accessible WC
Designated parking close to the entrance
Ground floor bedrooms available in the Cottage Bungalow – 1 twin room has lower beds
Accompanying Carers, if sharing, can claim a discount and will only be charged for meals
We'll try to help with bags if you need us to
Higham's main building dates from 1828 and, as such, can pose challenges in the form of the odd step here and there. We are striving to make things as accessible as we can for all our users.
---
NON-COURSE GUESTS:
Priority must be given to accommodation for our Courses, so usually availability is only known at the last minute. There are plenty of alternative places to stay close by.
B&B standard room £45.00 pppn (en-suite +£10) + VAT. Discount of £5pppn if sharing.
Breakfast £11.00 + VAT
Two course Lunch £16.00 + VAT
Three course Dinner £26.00 + VAT
Refreshments £3.50 + VAT
Packed Lunch £10.00 + VAT
_________________________________________________________________________________________________________________
GIFT VOUCHERS:
Gift vouchers are available to purchase over the phone for any amount. They are valid for 2 years from the date of purchase.
CATERING TIMES:
08:00 Breakfast [Residential Students] (Have 'the works' if you wish!)
10:30 Break (Coffee/Tea and homemade biscuits)
12:30 Lunch (Hot option, salad and pudding!)
15:45 Break (Coffee/Tea and homemade cake)
18:30 Dinner (Starter, Main, Dessert & Tea/Coffee)
You may treat yourself and indulge, (after all, you are on a kind of holiday) but we always do have 'healthy' options if you wish to keep your halo shining brightly. Mum always told me "A little of what you like does you good."
Our kitchen strives to cater for those who must avoid certain foods – let us know in good time.
Our food is prepared from scratch properly, in the real, traditional manner by Cooks who know how to cook and take a pride in what they do. Higham has a reputation for proper food and we are proud to uphold the tradition. Mealtimes are an important part of the Higham formula and are an enjoyable social element we value.
As we are a working college, usually with courses needing to run their sessions, we tend to stick to these times, with occasional variances for certain activities.
Meal Information
Receiving genuine constant praise, we have 5 gifted Cooks (including one just for biscuits and cakes!) and several Serving Staff to look after you in the Dining Room.
We prepare food from the best ingredients we can obtain through local suppliers, and try to provide a good balance so you may both indulge and abstain, should you need to. Prepared from scratch – this is proper cooking by Cooks who take pride in the quality of what they do.
We ask you to notify us of any dietary requirements when you book. If you need to talk to the kitchen about your food, please feel free, but do it in advance so we can prepare things right for you. We plan quantities around the information we receive so that we can ensure the highest quality and correct ingredients for everybody.
For Allergens information, our Kitchen Staff can inform you about the ingredients we use. You might be amazed at what different diets we cater for!
Our catering is very high quality, unpretentious, and a tried and tested successful element of the Higham experience.
---
DOGS:
In addition to assistance animals, Doggies are welcome to stay (£20) in our Gatehouse, Cottage Bungalow and in Campervans, and to enjoy our grounds (providing no traces are left!).
You may be charged for extra cleaning, (or even repair!) if required.
We love our four-legged friends here, but we do respect that fact that not everyone who comes to Higham might have the same enthusiasm for them.
We occasionally do have guests who are very allergic to pet hair!
---
TELEPHONE:
Rural location so mobile coverage is weak. We do have a Payphone.
Many people find the likes of WhatsApp useful, which works over WiFi.
---
WIFI:
Available at no extra charge.
---
ELECTRIC CAR CHARGING:
By arrangement with the Office and only at authorised points. Bring your 3 pin adapter (the one that plugs into a normal mains socket at your home). From £10 per vehicle per charge. We reserve the right to charge more if our tarrif has increased, although we only ever seek to cover the cost of electricity used. This is basic charging which will take a number of hours and also depends upon your vehicle's capabilities.
There are now good public charging facilties in Keswick at Booths Supermarket.
ACCOMMODATION:
Higham consists of an 1828 manor house (the Hall) with the main amenities for our typical activities and two properties used mainly for extra accommodation each about 100m from the Front Door: the Cottage Bungalow (level access possible across the rear car park) and the Gatehouse (by the main gate).
Whilst 22 of our 32 bedrooms are En-suite, the 'Standard' rooms each have a private bathroom allocated to them – most just opposite or very close by. Indeed, four of these 'Standard' rooms are spacious with the enviable front-facing view. Our largest bedrooms, naturally, have priority for sharing pairs of Students.
Be aware that we cannot guarantee the exact bedroom you will get as we strive to meet many different needs. Whilst bedrooms all vary in size, the same basic facilities and quality of bed etc. are provided in each. Ensuite rooms are slightly more expensive than Standard rooms.
Being a typical older building, there are a few steps to negotiate now and then. Please let us know if you have a genuine need for as few steps as possible and we will do our best to find a suitable room.
Upstairs In the Hall: 17 en-suite (with showers) and 8 standard rooms (with sinks)
Upstairs in the Gatehouse: 2 standard rooms each with own separate faciltiy, 1 en-suite double
Ground floor in the Gatehouse: 2 en-suite rooms
Ground floor in the Cottage Bungalow: 4 en-suite rooms

En-suite supplement £10 pppn
Discount £5 pppn if sharing, or in Gatehouse or Cottage Bungalow
Additional D,B&B may be available
Provided in Bedrooms:
bedding (fresh sheet, duvet with fresh cover, pillow with fresh cover
extra blanket, hot water bottle
hand and larger towel with hand soap and bathroom mat
tea, coffee, milk and sugar (sachets)
dressing gown (in standard bedrooms 11-14 and 23-25) for toddling to the loo!
reading lamp, radio, hair dryer
central heating, fan heater available on request
A small stock of convenience items (shampoo, toothpaste etc.) available for sale in the Office.
Accommodation for students and carers associated with a course is not subject to VAT.
---
ALTERNATIVE ACCOMMODATION:
If we are full, or if you prefer, you may attend as a day student, pay the 'Non-residential' fee and stay very close by.
Camper Vans welcome £10pppn:
3 x Electrical hook-up points
Water and outside flushable Sluice Room
Use of Sluice Room (WC, sink & shower), Hall Drying Room, Bar & Library available 7am to 11pm
Meals & refreshments bookable in advance, if required
Other places to stay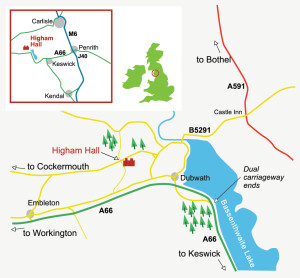 Higham is on the north-western edge of the Lakes National Park so there are plenty of other wonderful family-run guest houses, hotels and self-catering close by in and around Bassenthwaite, Braithwaite, Thornthwaite, Keswick and, of course, Cockermouth – all within 9 miles. A tried and tested selection are presented here:
LINK HOUSE – 0.75 mile
Bassenthwaite Lake, Dubwath, Cumbria,  CA13 9YD
Pete & Katie  017687 76291
Link House offer up to a 10% discount off full price offered to Higham users
LAKESIDE COUNTRY GUEST HOUSE – 0.75 mile
Bassenthwaite Lake, Dubwath, Cumbria,  CA13 9YD
Tim & Karen  017687 76358
OUSE BRIDGE GUEST HOUSE – 0.75 mile
Bassenthwaite Lake, Dubwath, Cumbria, CA13 9YD
Stephen & Claire  017687 76322
Also, in Cockermouth (5 miles):
www.PremierInn.com
This Premier Inn hosts the local Brewers Fayre which can be found here:
https://www.brewersfayre.co.uk/en-gb/locations/cumbria/brewers-fayre-cockermouth
And don't forget we are in the Lake District National Park, so there are hundreds of other places to stay.
You might find the local tourist information sites useful: www.cockermouth.org.uk      www.keswick.org