HALL BEDROOM REDECORATION
Higham has 17 en-suite and 8 standard rooms. Our aim is to redecorate them back to their former glory of 18th century, gothic style with a modern touch here and there to make it accessible for all.
HALL BEDROOM REDECORATION | BEDROOM 9
17.01.2020
Colour for ceiling and woodwork: Wimbourne White
Paper for feature wall: Bayham Abbey Citrine
Colour for other walls: Green Marle
The ceiling has been replaced, and the beam painted to help the room look larger. This room is the former top floor of the old farmhouse onto which the Hall was built.
Still the carpet, curtains and lampshade to sort.
The concept for Rooms 9 and 8 is gentle green, based upon the heritage wallpaper shades from the 1870s. We felt this is a calm contrast to the lively yellows we chose for Rooms 1-5 (remember how dour those rooms were before). In addition, because both rooms had almost been forgotten about, we felt a bold gothic nod was needed – hence the feature wall with the expensive wallpaper, rather than just paint. The rest of the room is calm and relaxing.
HALL BEDROOM REDECORATION | BEDROOM 19
2.8.2019
As mentioned before, we have been keen to sympathetically redecorate our rooms bit by bit. We have recently had bedroom 19 redone. After converting this ensuite room into a single (rather than a small double) and having Simon our carpenter make oak veneered furniture and headboard for us for the now new single bed, we needed to re-decorate.
This we have done with heritage paints, based upon harmonising colours with a delightful eau de nil (does that really mean 'Nile water'?) shaded window blind showing the Strawberry Thief design by William Morris.
Colour for ceiling and woodwork: All White
Colour for feature wall: Matchstick
Colour for other walls: Wimbourne White
As we have been attempting to do, the room is now functional, easy to clean and fresh, but feel a part of the building with its heritage colours and tasteful appointment.
Just the carpet to sort – and we'll get round to that eventually!
HALL BEDROOM REDECORATION | Sympathetic Redecoration Room 1-5 Complete
21.09.2018
Using heritage colours and cues to refurbish bedrooms and public areas so that they reflect significant eras the building has been through.
We are being fussy about what we are using and making sure things are done to a high standard, both for longevity and for aesthetic appeal. For instance, Bedroom 2 has been repainted in heritage colours with a feature wall the same base colour as a heritage wallpaper sample from the 1870s, which we have framed as a reference point. The heritage wallpaper is being used in some larger bedrooms.
On a practical note, in some rooms we are installing larger mirrors, better curtain poles and, eventually, new carpets and soft furnishings to upgrade the feel. In addition, the correct contrasts are being sought for door frames and windows to accommodate visual impairment and create good tonal distinction so that thresholds can be easily identified.
HALL BEDROOM REDCEORATION | Room 15 – Complete
18.01.2017
As ever, with an old building – an ours' is nearly 200 years old – there have been challenges with our redecoration. Because we are stubbornly refusing to compromise and do things by halves, we are facing these challenges head-on. In the long run, it will cost less money, but in the short term, we have had to find the money to address certain things. These have been:
restoring plaster work to the interior neo-gothic gerogian window arches
roof work to reduce water ingress that was damaging the walls from the outside
various damp patches caused by water damage over the years (leaks and condensation)
We decided to do things properly, taking things in stages, carefully, and taking the right steps physically and ethically. This means using certain high quality materials, including hard wearing paint, and also making educated aesthetic choices about colours. For the latter, we have considered both the setting and the usage, including for people with limited visual faculties. Of course, we have also considered how durable and practical the finishes will be.
Whilst this has taken more time, the end results are worth it. We have not gone over the top – that would be careless, but we have tried to end up with something that will last, serve and please for years to come.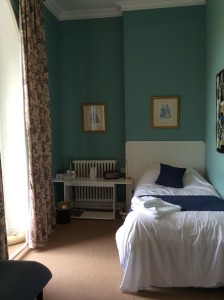 HALL BEDROOM REDECORATION | Room 15 – Now it's your turn
8.11.2016
One of our largest ensuite bedrooms in the Hall is having some TLC. Room 15 boasts two wonderful gothic arched windows facing the front. Unfortunately, it also has boasted leaks from both the roof through the window surrounds and the ceiling (due to condensation in the attic).
These issues having been addressed, our professional decorator Mark and his team are preparing the room for repainting. We have chosen heritage colours in a high quality paint (much like we used for Rooms 4 and 5 recently), and hope the difference will be noticeable when it is done.
HALL BEDROOM REDECORATION | ROOMS 4 & 5
Adding the finishing touches
21.9.2016
Those students who are familiar with these two bedrooms may identify with the fact that they both suffered from 'snore-bleed' through the adjoining wall. This was due to the fact that when the rooms were originally divided many years ago, the wall between them was just a stud partition. We have now sorted this issue by building a acoustic noise-repressing board to solve this issue.
Alongside this, both bedrooms have been redecorated, inspired by 1870s wallpaper design creating a feature wall in each bedroom. The wallpaper is pale ore colour and the woodwork skirting and door frames have been picked out in a darker contrasting shade, suitable for the visually impaired.
Room 4 now has its new curtains up – a light gold version of the gothic harvest theme in rooms 1 & 2. We are waiting for Room 5's material. Room 5 is still awaiting some panelling work around its window.
Both rooms now have larger wall mirrors and the new period style toggle light switches have made us happy – helping to bring both these rooms in to feel a true part of this 1828 manor house, it's all in the detail!
Both rooms are awaiting new fitted headboards and shelving units in Light Oak. These will enable slightly easier movement and will give the rooms a slightly more updated, practical feel.
Room 4 has also had its skylight boarded up as it annoyed some people who didn't want to get up with the lark!
Getting the basics right
09.10.2016
For a long time the wafer-thin wall between 4 & 5 has allowed deep snorers to keep their neighbours awake. Well, we are eliminating this problem, prior to a redecoration, by putting up an acoustically-dampening wall between these two bedrooms.
Room 5 has also over the years suffered from a bit of water ingress – it is in the oldest part of the building. We are addressing this, having researched the issue, and will report back.
Meanwhile, I think it is fair to say that both 4 and 5 could benefit from a bit of a makeover. So we are going to employ a variation of the colour scheme from Rooms 1 & 2 (already redecorated), along with some carpenterical (that's a word we've just invented) wizardly to make both these rooms better,… Watch this space!
HALL BEDROOM REDECORATION | Rooms 1&2 – complete
19.08.2016
We are pleased with what we have managed to do with Bedrooms 1 and 2. We took a 19th Century wallpaper design as a cue and took heritage colours from it. An example of the wallpaper itself has been put in a black metal frame on the wall that has the feature colour. We decided, for these two rooms, to paint the walls and to look for really good curtains and carpets (still to be sorted!). Other things which reflect our current decoration ethos are:
2 Heritage colours – with enough contrast for LRV (light reflective value) accessibility requirements – note the door frames denoting access points for the sight-impaired
Hard wearing quality paints used all round for ease of maintenance and longevity
Larger landscape mirrors to reflect light and serve as mirrors.
Good quality metal period design curtain poles
Minimalist for a clutter-free atmosphere
New Sealy divan beds and posturepedic matresses – quality and able to withstand the various demands of guests
Gooseneck beside lamp for reading
Latest LED energy saving lightbulbs
All features complying to applicable standards for accessibility and safety
We recognise that for a short space of time, the bedrooms are someone's 'base' and so we are trying to make sure the layout and ammenties, whatever the size of room, are as good as we can make them. All the time, the aesthetic value is being respected, as we want all rooms to feel they should be a part of this wonderful historic building.