WINDOWS
Windows are one of those things which are, you could say, boring but essential to uphold and keep in tact. Slowly but surely the aim is to have all of the windows at Higham painted or replaced.
Windows | At last – The front upper windows get a lick!
12.4.2019
Regulars at Higham will know my relief when I can tell you that, finally, the front upper windows are getting repainted and repaired.
Our 1828 gothic revival building has parts that are inaccessible to ladders, and so full frontal scaffolding has been errected. Apparently last time this was done, they were allowed to use ladders!!! Can't even contemplate something like that now.
Whilst it is there, we are also having some of the glazing panes replaced. These are original Georgian windows, so we are careful about how we fix them. The shapes of the panels can be a challenge, especially the arched ones.
We are also having some re-pointing done with hydraulic lime mortar – the proper stuff that still allows the stonework to breathe a little – absolutely essential for this age of structure, but, it has to be said, not always used by past custodians of the Hall.
The repainting has gone well, helped in part by a week of spectacular weather conditions, ideal for what has been attempted. The painters have painstakingly rubbed the framework and undercoated, top coated and also have tidily sealed the outside of the upper half-windows (which many, many years ago were fixed shut). This has made a huge difference to the tidiness of the front aspect of the Hall.
One arched shape pane of glass that blew out a while back in a storm was in the ensuite of Room 7. Since then, despite the handy ventilation it provided for the shower, it boasted a Principal's-own job of thick plastic sheeting in one of its central panes, held on by sturdy bulldog clips. This has now been fixed, and traces of any 'Heath-Robinson' botching has been eliminated.
Still some woodwork to replace, but, on the whole, great progress has been made.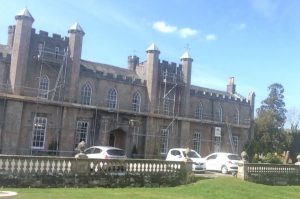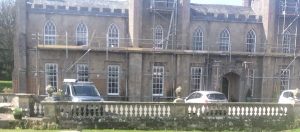 Windows | Bungalow Cottage and Gatehouse Windows
23.3.2019
Yes! We have finally managed to double glaze both the Bungalow Cottage and the Gatehouse Bedrooms.
Those of you who have been with us a while may be aware of the challenges we have had in reaching this stage, but now, finally, decent quality windows have been installed in these two buildings. Subsequently this accommodation has now been transformed into a delightful and more comfortable facility that is being well-received by our students.
Both locations get a lot of use these days. The Cottage rooms are all ground floor ensuite. The four Gatehouse Rooms share two bathrooms at the moment. (We do have plans to improve this, though!).
What's more, aside from the fact that many people (and I'm not just saying this) enjoy being away from the main house in these two buildings for their accommodation, they are £5 per night cheaper. This seems to be a welcome thing for a lot of users.
Thanks to everyone for your patience as we have worked towards this.