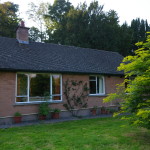 More than just a redecoration, this one. Those familiar with the Bungalow will recognise that this 1960s one 3 bedroom, one bathroom house originally built for the Warden when Higham was a girl's school, was hardly up to scratch for modern needs, although it did boast one advantage – that it offers the only ground floor bedrooms at Higham. After resurrecting plans originally conceived by my predecessor's predecessor (Alasdair Galbraith), we have embarked on converting it into 4 ensuite bedrooms. This modernisation is more than cosmetic, it is to meet the needs of people who come to Higham, enabling, in some cases, some to stay who previously may have thought twice because the main stairs, even with a stairlift, can pose a challenge sometimes.
Moreover, this will increase the number of en-suite bedrooms on site from 17 to 21, making a significant difference in our capacity to comfortably run three courses side by side. You won't need me to tell you that this would be a boon to Higham's future, as making use of the space we have (for instance, having courses in each of the LECTURE ROOM, CEDAR ROOM and STUDIO at the same time, with most bedrooms filled makes best use of our facility and is, frankly, the most sensible economic model for us.
So, the tired old Bungalow, or Cottage as some call it,  has been getting what we are going to term "The Lawrence Treatment". Lawrence is our professional plumber/electrician/builder/handyperson who has, by now, a good working knowledge of what Higham needs in terms of its physical pipes, cables and walls. This in-depth awareness, also of the people Higham serves, has assisted him in developing the previous 15 year old plans into the current project. The beauty of this one is that the footprint of the Cottage stays the same, and, indeed, just a few internal walls being configured without having to destroy any existing walls, it manages to even replace a wall that was in the original design, that had in the interim been taken out to make a wider doorway in one bedroom for a wheelchair.
Which brings me to accessibility –  a key component and driver for our ideas. What we are doing is sacrificing the old kitchen and lounge to create 2 linked bedrooms (a single and a twin) that can also operate independently, but both could, if needed, have access to the accessible WC/shower. On top of that, there will be two more bedrooms ('Longside' and 'Skiddaw'), a twin and a single, each with their own ensuite. The littlest bedroom of the former layout ('Binsey') has been transformed into 2 ensuites, one for the former lounge (which will become the new 'Binsey' as a twin room) and one for the other twin ('Skiddaw'). The logic behind the linked rooms is that a carer or partner could come to stay as well with someone who needed the more accessible 'Elva' facility and they could stay in any of the other rooms. Indeed, we are making it so a wheelchair can have access to a hole half of the Bungalow (previously only a quarter was officially possible).
Decor-wise, we are following on from our experiences in the Hall with quality materials and visual-friendly colour shcemes, at the same time, trying to ensure a clean brightness is applied to this corner of the site. The entire sewerage has been replaced (the original was pitiful and, we found, was actually attempting to flow uphil!). Also, we have had the entire road-facing  'front' of the Cottage remodelled into a patio, as well as improving the surface water drainage so that we can hopefully avoid any further flooding (which would come in from the fields/road into the old property).
The person wielding the brush and roller is my lovely wife Carmel, who has taken on the not-insignificant challenge of painting the newly-configured bedrooms and ensuites. We have also has some other volunteer help from carpenter David with some of those fiddly wooden bits. Our professional carpenter, Simon, is sorting out fitted headboards and furniture of the same style as those he did for Rooms 4 & 5.
How are we meeting the cost for all this? Well, I am proud to say we are managing to achieve this not through extra borrowing, but by careful budgeting over the past few years, enabling some surplus to be re-invested back into the premises – which is as it should be! Higham is a charitable trust and totally responsible for itself, but the business model we have does work for us, enabling us to meet our obligations as an employer and consummer, and to look further to meet other desirable obligations such as (in alphabetical order) accessibility, aesthetics, modernisation, practicality and safety.
Higham will always need these things addressing, as it is very much a 'Forth Road Bridge' entity. There will always be something to do. But, in the case of this Bungalow/Cottage redevelopment, the changes should have a positive impact of future business, enabling more people to enjoy us, better use of space and helping people see we take things seriously.
One last thing to state at this stage, is that we have designed the facility to be usable by anybody. These will be regular rooms, one with a few practical adaptations for mobility. At Higham, we consider all people equal and just want to enable as many people as possible to feel comfortable, whatever stage of life or physical ability  might prevail. If people are able to get to Higham, then they should be able to stay at Higham. The provision of ground floor ensuite bedrooms has been a dream for longer than I have been here, and this is a good start on the road to achieving this.
We will post up pictures of the finished rooms when we have done them.