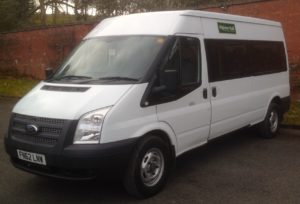 Here he is, the successor to faithful old Hoskins who, after 13 plus years, has now gone to a retirement of lesser demand.
The new boy comes from the Transit bloodline and has slightly fewer seats in the back – something we feel will provide a little more room. He certainly feels like a newer 'bus than the old Peugeot – he is 7 years younger, after all, and has done less than half the mileage… in fact, he's barely run-in! We felt we could not justify spending four times the amount on a new vehicle when one like this will do just as well.
Seriously, though, a local garage, P&R Benn, kindly sourced him for us – knowing we wanted something comfortable, reliable and good value. We are grateful to them, as finding decent used vehicles can be a bit of a challenge – especially when you are 30 miles from the nearest sizeable town, let alone further away from a choice of dealers.
Unlike Hoskins, Finlay is rear wheel drive and will take 13 passengers in addition to the Driver. There is more legroom, plusher seats and heated windscreen!
We hope our Students and Tutors who enjoy the minibus will enjoy the new arrival and appreciate the slightly more refined experience for both driver and passengers.