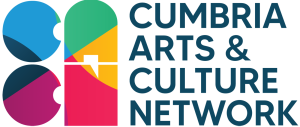 I keep on recommending this excellent half hour monthly Podcast (it's like listening to a programme on the radio on demand) called Behind the Scenery to people because I really do feel it has relevance to what goes on around our region. It is produced so very well and visits different creative people and places around the area. Many of the places have been visited in the past by Highamites or we have done things with them: theatres, galleries, poet's homes, fesitvals, exhibitions, creative projects, renovated buildings, museums, novelists, movers and shakers from all over the county.
They are now up to Episode Four, so there is, by now, something of interest to everybody who appreciates the nicer cultural things in life, particularly what is on offer in our region. Intelligent, sensible.
Behind the Scenery podcast
The Behind the Scenery podcast from the Cumbria Arts and Culture Network will celebrate the arts and cultural scene of Cumbria. As the name suggests, its ambition is to get under the bonnet of what is going on here, what makes it tick, and who is making it happen. It will consist of a blend of field recordings and interviews, on location in venues and elsewhere, all shaped into a single piece of audio. It aims to get right round the county, visiting all arts forms. And its ambition is to surprise and entertain as well as inform and be of interest. 
You can listen to all episodes when you want without any special software, and it is totally free to listen to.