A shelter in the garden which will look out on the wonderful view we have here. Alston, a residential college much like Higham, was closed in December 2015 after many years serving Lancashire and its Friends group wished to use up some remaining funds to help something within the spirit of what they supported.
Friends of Alston have therefore kindly agreed to fund a special 'gazebo' in the grounds. This will have a prominent position to the left of our front lawn and has been chosen as a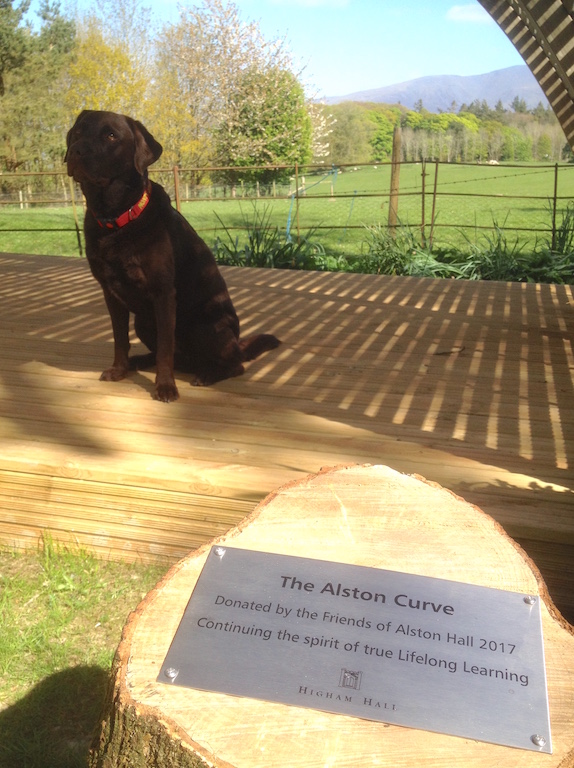 quality product with a good lifespan, maintenance-free, suitable for the Lakeland climate and, more importantly, will be of genuine service to the users of Higham.  Artists especially will use the shelter for outdoor work, but it will also be a sheltered haven for anyone wishing to spend some time contemplating the most wonderful views we have.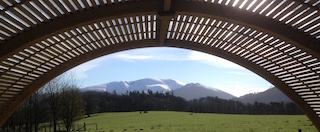 Sleek and simple, the structure is "one continuous curve, arching gracefully from the ground, a seemingly gravity-defying contemporary garden shelter." It will be fastened securely to a base for all weather use. Open at the back and also at the front, from where it will command a tremendous landscape view, sheltered from the elements.
There is a clever use of clear styled polycarbonate to cover the panels, allowing light in but keeping the area underneath dry, integrated within the innovative design combining both functionality and aesthetics and the wood is treated to provide a 25 year guarantee against wood boring insects and all types of rot. Dimensions: 5.3m wide x 3.1m deep x 2.2m high. Make no mistake, this is a luxury item befitting Higham that will be noticed and appreciated for many years to come.
Once upon a time, there was a tree house in the grounds and the Alston Curve will be a spiritual successor to that and the enjoyment that it once represented. Thank you very much for thinking of Higham and we hope Alston's Friends will return to see their Curve int he years to come.